give-away!


Thank you all for your comments, some were very amusing ..
this now belongs to Robynn's daughter Bo ..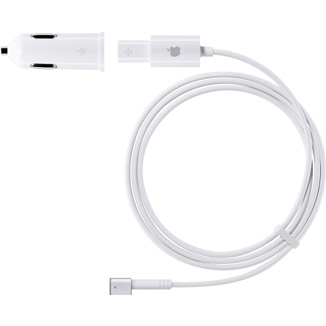 Overview

Now you'll never lose your work or miss the end of a DVD movie because your battery runs out at 35,000 feet. The MagSafe Airline Adapter will keep your MacBook, MacBook Pro, or MacBook Air juiced throughout your flight. Sleek and light, it works with in-seat DC power ports available on many commercial airliners — both EmPower ports and 20mm ports (using the included adapter). Check with your airline regarding availability of in-seat power ports.

Because it's a MagSafe adapter, you'll continue to enjoy MagSafe convenience just as you do at home or work. The magnetic DC plug ensures a tight connection and enables a clean break from the power port if there is undue tension — preventing your MacBook from being pulled off your tray table if someone accidentally trips over the cord.

Important notes:

* Using the MagSafe Airline Adapter provides power for your computer but does not charge the battery.
* The MagSafe Airline Adapter is not compatible with automobile power ports.

What's in the box (

note

:

there is no box, its in a pouch

)

* MagSafe Airline Adapter with EmPower connector
* 20mm adapter
* User's Guide

Compatibility

* Works with MacBook, MacBook Pro, and MacBook Air computers
* Connects to in-seat EmPower and 20mm power ports
Here's the deal
... if you can use this, its yours. I bought it only to discover that none of the JetBlue fleet are outfitted with the connection this needs and I rarely fly other than JetBlue.
I would love to give it a good home ...